Please join us for the All Unity Thanksgiving Eve Service at First Unity Church of St. Louis on Wednesday, November 24, 2021 at 7:00 p.m.. You can livestream the service through the following direct link: https://youtu.be/bHK4uINz4tM 
Following the service, the link above will take you to the recording of the service. You can also watch the service from one of the links below:
Blessings, Love and Light to All!
Order of Service — November 24, 2021
Welcome and Opening Prayer — Rev. Jan Mourning, Minister, First Unity Church of St. Louis
Congregational Song -– Thank You for This Day by Karen Drucker
Thanksgiving Daily Word –- Sarah Carr-Jordan, Licensed Unity Teacher, Unity Church of Light
Speaker  — Rev. Le Remington, Unity Minister at Large
Speaker — Pat Dillon, Board President, Unity of St. Louis South
Music – She Sends You, written and performed by Brian Clarke with Steve Schenkel
Speaker — Mary Biggs, Licensed Unity Teacher, Unity Christ Church
Speaker — Vernetta Holmes, Spiritual Leader, Unity Church of Light
Congregational Song — I'm So Grateful by Karen Drucker
Blessing of the Offering
Meditation — Rev. Sharon Allmond, Retired/Unity Minister at Large
Music  — Thankful, by David Foster, Carole Bayer Sager, Richard James Page, performed by Brian Clarke with Steve Schenkel
Closing — Rev. Jan Mourning
Congregational Song  — God, You Are by Daniel Nahmod
Brian Clarke and Steve Schenkel Are Our Featured Musicians at the Thanksgiving Eve Service
Brian Clarke is perhaps the most beloved New Thought musician in St. Louis. He is most recently the recipient of the St. Louis Magazine "A-List" Award as Best Vocalist and Best Musician.
Yes, this is the same Brian Clarke who played at The Opera House / Train Wreck and Dorsett Inn.
Brian has toured the U.S. many times as a bassist and vocalist with Kinky Friedman and Billy Swan. He has played with Willie Nelson, Jerry Jeff Walker and many other well-known artists. As a solo performer, Brian has opened shows for The Little River Band, Poco, Leon Russell, David Crosby, The Outlaws, Tom Chapin, Donovan and many others.
Currently, Brian continues to confidently share the skills born of his tremendous experience. His stage presence is unique, spontaneous, fresh, alive and of the moment. He connects with you. Brian works to see that you get exactly what he intends for you to have…a great time, every time!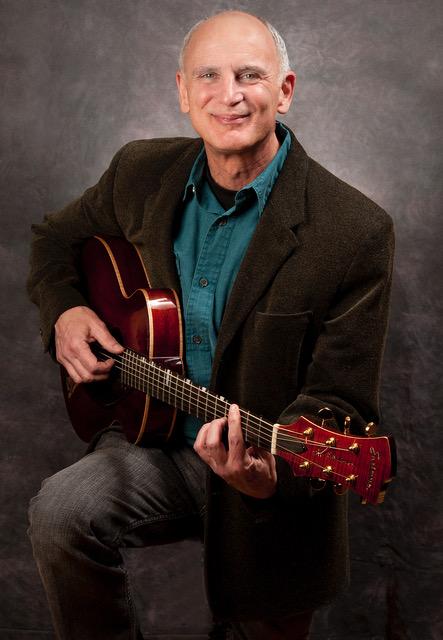 Steve Schenkel is the guitarist and orchestra manager for the Fox Theater, guitarist for the Muny Opera and the St. Louis Symphony, and a freelance jazz musician. Steve has a Ph.D in Music from Washington University and a Masters Degree in Religious Studies from Webster University where he has served as an Adjunct Professor of Religious Studies for 16 years. He recently retired after 37 years at Webster University, where he founded the Jazz Studies program, the Webster Jazz Concert Series, and the Jazz Studies/Music Technology program. He taught music, media, and religion since 1980 and is now a professor emeritus.  His music is heard nationally on the PBS program "Breaking Bread," as well as by millions of visitors each year in the multimedia show under the Gateway Arch.  Steve now serves as the Music Director for First Unity Church of St. Louis.