Livestream link for the Celebration of Life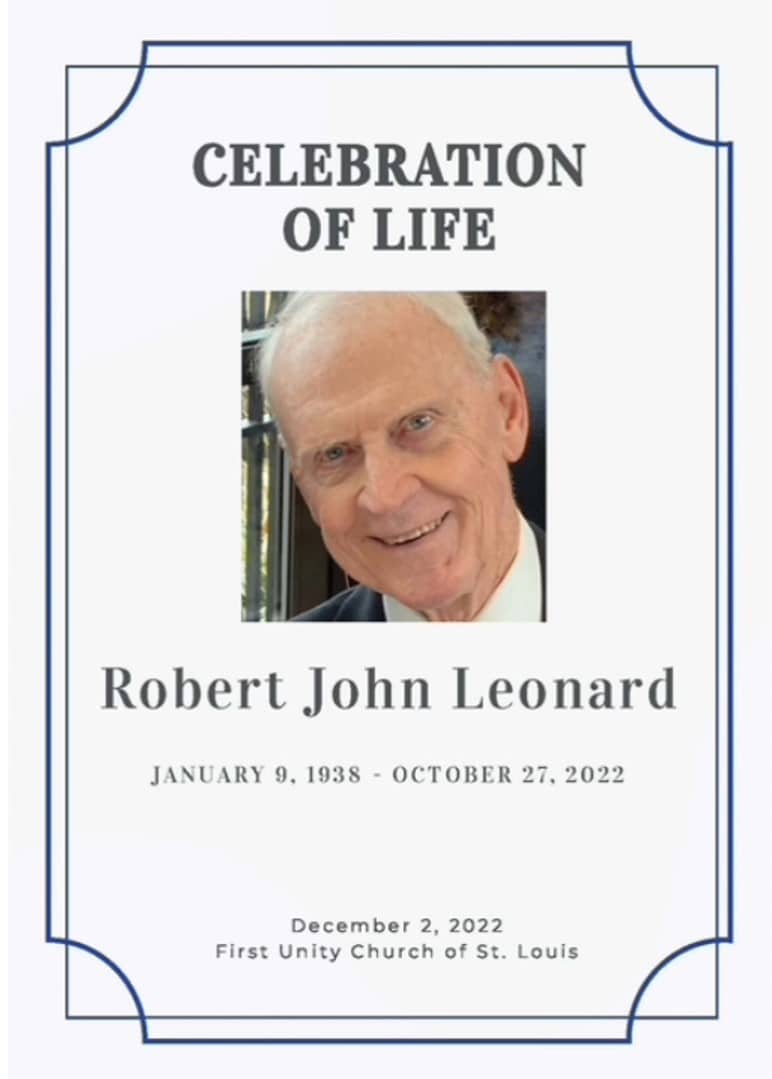 About Bob…
Bob peacefully made his transition surrounded by loving family on October 27, 2022. Born on January 9, 1938, Bob is survived by his beloved wife, Jan Mourning, children Cathy (Nass) Arshadi, Rob (Carol) Leonard, Maureen (Jim) Sioumcas, grandchildren Mitch (Kerri) Leonard, Ellie Sioumcas, John Sioumcas, great-grandson Henry Leonard. Husband of the late Marianne (nee Svejkosky) Leonard, he was a cherished uncle, cousin, nephew, brother-in-law, and friend to many.
Bob's career was dedicated to teaching in the St. Louis Public and Parkway School Districts. He was both athlete and coach at the high school and college levels. A baseball, basketball, and football official, he was one of the original inductees into the St. Louis Officials Hall of Fame. A member of First Unity Church, Bob was always willing to share his time and talents for any task. Bob was dearly loved and will be greatly missed.
Order of Service
Music — God You Are
Welcome and Opening Prayer
Affirmation of Life and Love Eternal
Music — Witness
Life Celebration Slideshow Tributes to Bob as a:
Lifelong Friend……………………………….Bill Eydman
Teacher………………………………………..Valerie Waterman
Football Official……………………………..Bob Hantak
Coach………………………………………… Charlie Meyer
Uncle………………………………………….Jordan Mourning
Father…………………………………………Rob Leonard and Maureen Sioumcas
Husband………………………….…………Jan Mourning Leonard
"What Is Success?" — Ralph Waldo Emerson
Benediction
Ending Prayer
Music — On Eagle's Wings
Minister: Rev. Sharon Allmond
Guitarist: Dr. Steve Schenkel
Soloist: Deborah Sharn
From The Family…
We would like to express our heartfelt gratitude for the love, compassion, and support you have all shown our family during this difficult time. Thank you for being in our lives and for being with us today as we celebrate Bob's life.
In lieu of flowers, memorials are appreciated to First Unity Church of St. Louis (unitystl.org/donations) or BJC Hospice/Donate (bjchospice.org).
Program created by Kelsey Mourning (niece).