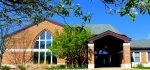 Shop online through IGive.com. Earnings vary, but can be as high as 4 percent of your purchases. Over 2300 companies participate, including hotel and rental car chains, travel discount sites, Walmart, and Macy's, to name a few. Select First Unity Church of St. Louis as your cause. Amazon does not participate in IGive.com, but see below.
Shop Online with Amazon Smile.  Amazon contributes 0.5 percent of your purchase of the same products at Amazon.com. Select First Unity Church as your charity.
Here is a short 5-minute video with more detail on how these programs work and how to register.
Contact Rick Emnett at 314-478-5830 for more information on IGive.com. and Amazon Smile.
Planned Giving involves donations planned today that the church will receive at a later date. One of the simplest and most popular ways to make a gift to the church is through your will. However there are many options for planned giving such as: a charitable gift of life insurance, stock, IRA accounts, and real estate. Planned gifts will help to build the financial stability of our church. Such gifts in the past have played a big role in the financial success of First Unity. You can contact the church office at 314-845-8540 for further details and help in your planning.See Legacy Giving and Other Ways to Give.
Thank you for your generous support!
And remember: You already are our greatest asset!
We are a spiritual community of like-minded individuals, pursuing a positive path for spiritual living. Everything else is secondary.
Financial contributions have never and will never be a prerequisite for active membership and participation in our community. We are honored to be of service to you. We love you; we bless you; we truly appreciate you, and we behold the Christ in you!