First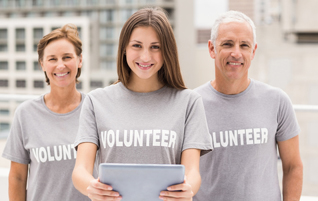 Unity invites you to consider all of the blessings that come when you join a ministry team:
Opportunities for growth (personal, professional, spiritual) through service.
A sense of belonging, which benefits individuals as well as the church.
The chance to develop nurturing relationships in the conscious presence of God.
The opportunity to make a difference in the lives of others and the life of the church.
A ministry team in Unity is marked by contagious love!
Jesus said, "You'll know my disciples by their love for one another."
Are you called to be a leader?
Following are some of the reasons people step up to volunteer leadership in ministry. You might want to consider whether you recognize any of these desires or motivations as your own:
A desire for a partnership with God. A leader helps others become all that God wants them to be.
A desire to be a blessing.
A desire for blessings: Each person you build up also gives you something valuable in return. Through giving, you receive.
The opportunity to gain skills that will bring greater blessings in other areas of life (work, personal).
What volunteer leaders in ministry do:
Bring people together.
Keep them on the right track.
Help them develop spiritually.
Represent the church and Unity.
Maintain connection with the church to ensure that the team maintains effectiveness and does not detract from the ministry.
Recognize and nurture rising leaders.
Act as a guide, not an authority.
Resolve conflicts in a way that honors all.
Keep commitments.
Always begin meetings with prayer.
Use prayer as a source of guidance and prosperity for the ministry team. Visualize each member of the team as you pray for him or her. Visualize desired outcomes.
Welcome and train new team members.
Maintain up-to-date records of team members' names, addresses, phone numbers & email addresses. Supply updated lists to church office.
Maintain an accurate job description to ensure that the ministry team can function in your absence.
Find an assistant or co-leader to share the work and fun, and to cover for you when you're on vacation or for any other reason are temporarily unable to fulfill your responsibilities. Let the volunteer coordinator know.
Delegate. Give others the opportunity and blessing of serving.
Communicate goals, plans, challenges, etc. with church staff.
We invite you to explore our ministry teams to find a match for your interests and abilities.
If volunteer service at First Unity appeals to you, please contact us so we can help you find the perfect opportunity to share your love, light and gifts with others in our church!