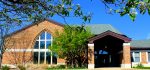 Hello, everyone.  With the beautiful weather we have enjoyed the past two days, it is hard to imagine that a snow storm is imminent.
After prayerfully considering the COVID situation in the greater STL area, I have made the following decision:
1.  We will hold in-house service this Sunday, January 16, reverting back to the 6 feet distancing guideline.  We will not have all the pews roped off as before, but those of you who plan to attend physically, please seat yourselves 6 feet away from others (except, of course, those in your party.)  This also means virtual hugs only. 😞
2.  Starting Sunday, January 23, we will have service via live stream only.  It will be at 10:30 a.m. as always.  You can find the link on our Facebook page, website, or First Unity Church of St. Louis YouTube.
St. Louis City and County Health Officials are urging people to stay home as COVID cases and hospitalizations continue to be at an all-time high. Let us come together in prayer that this will be short-lived.
Although we find joy and strength in gathering together, our oneness is beyond time, space, and physicality.
While we are closed for services, with the exception of our AA meetings, all group meetings will need to be virtual.
We will post this plan on our Facebook Page and website, and I will send a Flocknote also. Your safety and well-being are so important to me and to the Board of Trustees. I am visualizing the time we can once again gather together safely and joyfully.  In the meantime, I am holding everyone in prayer and appreciate your ongoing support of First Unity.
In oneness and love,
Jan