Thursday, May 14, 2020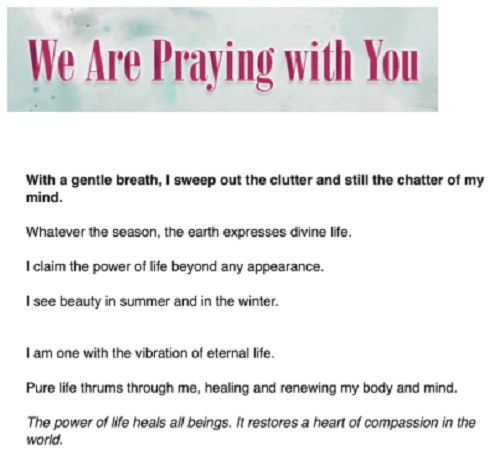 Hello, everyone!  The prayer above comes from Rev. Joy Wyler at Unity.  Certainly, in this beautiful spring season we can see and appreciate Divine Life all around us.  This reminds us that the goodness of God prevails.
I know everyone is wondering when we can resume our normal services.  The Board and I will be working on this in compliance with the latest St. Louis County Order and guidelines from Unity Worldwide Ministries.  The St. Louis County Order is complex and mandates 6 ft. between people at all times.  We will contact you as soon as we can about our decision.  Your safety is our primary concern.
In the meantime, thanks to ALL who have continued to send your love offerings in the forms of checks mailed to church, PayPal donations, and automatic withdrawals to First Unity.  Thanks also for following, liking, and sharing on Facebook.  We continue to reach an extended community through our abbreviated Sunday Services and I am grateful for all of those joining us.  Much gratitude goes to the amazing crew who is responsible for making this happen.
 Updates:
Ladies' Night Out and Book Club are canceled for May.
Ordination Activities are rescheduled for July 25-26.    We will be sending an email soon to get new R.S.V.P.'s for those activities.
Prayer Chaplains have been meeting and continuing training via Zoom.  They are making regular prayer calls from home.  Thank you, Prayer Chaplains, for your prayer consciousness and support to our spiritual community.
Our Annual Meeting will be scheduled as soon as possible.
Stay centered and stay safe.  Every single one of you is in my heart and in my prayers.  I appreciate all of you greatly.
Love ,
Jan